All you need is two common ingredients to make an easy cake flour substitute! With just all-purpose flour and cornstarch, you'll be back on track to baking the softest cakes and cupcakes.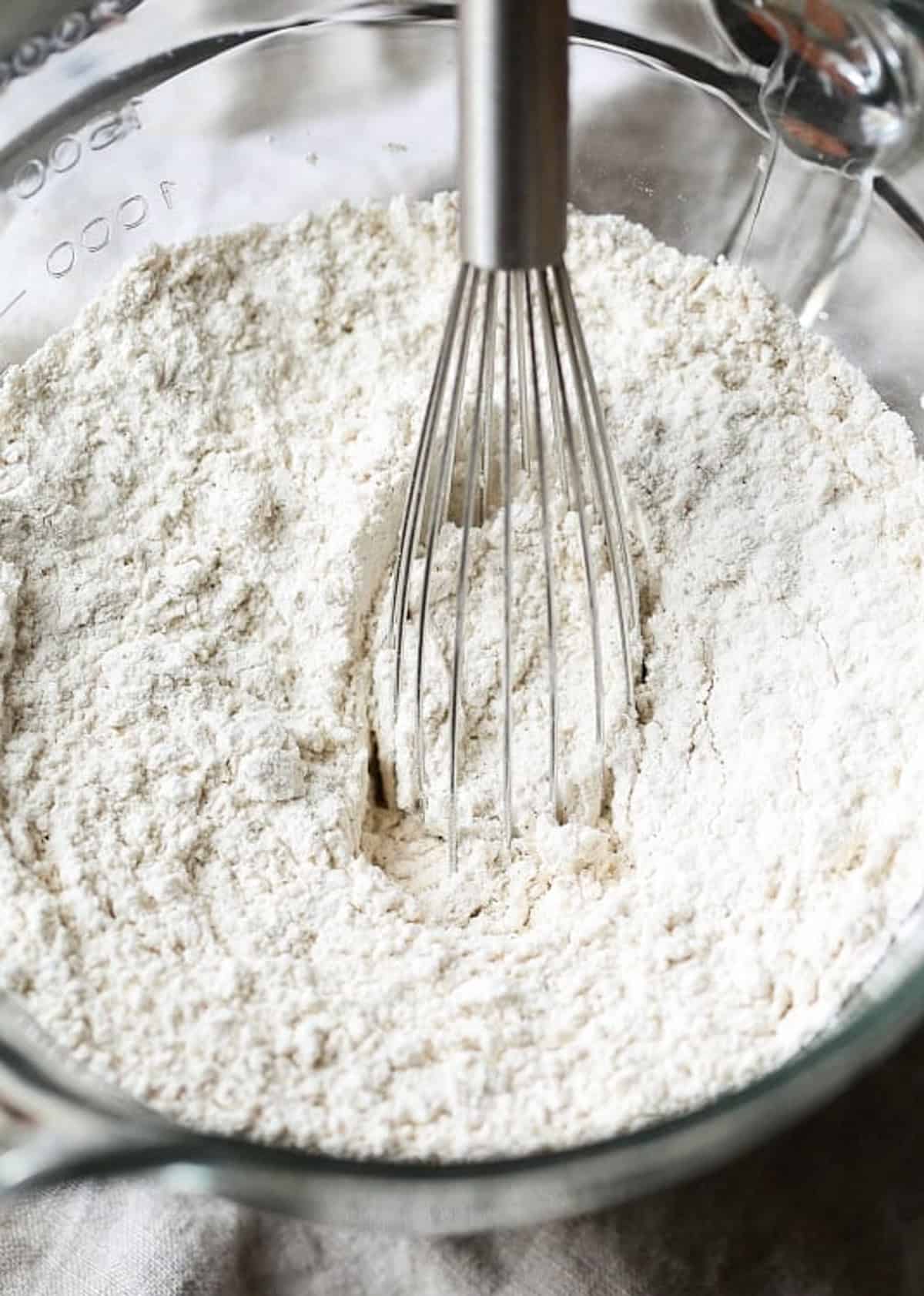 How to Make a Cake Flour Substitute
The more you bake, the more you realize that when they say that cooking is an art, and baking is a science, they aren't kidding! Even a simple change of ingredients can make all the difference. When it comes to the softest cakes and cupcakes, I've come to rely on cake flour for the tenderest results. 
Every so often, though, my stock runs out. When that happens, I make this crazy-easy cake flour substitute. All it takes is two common ingredients: all-purpose flour and cornstarch.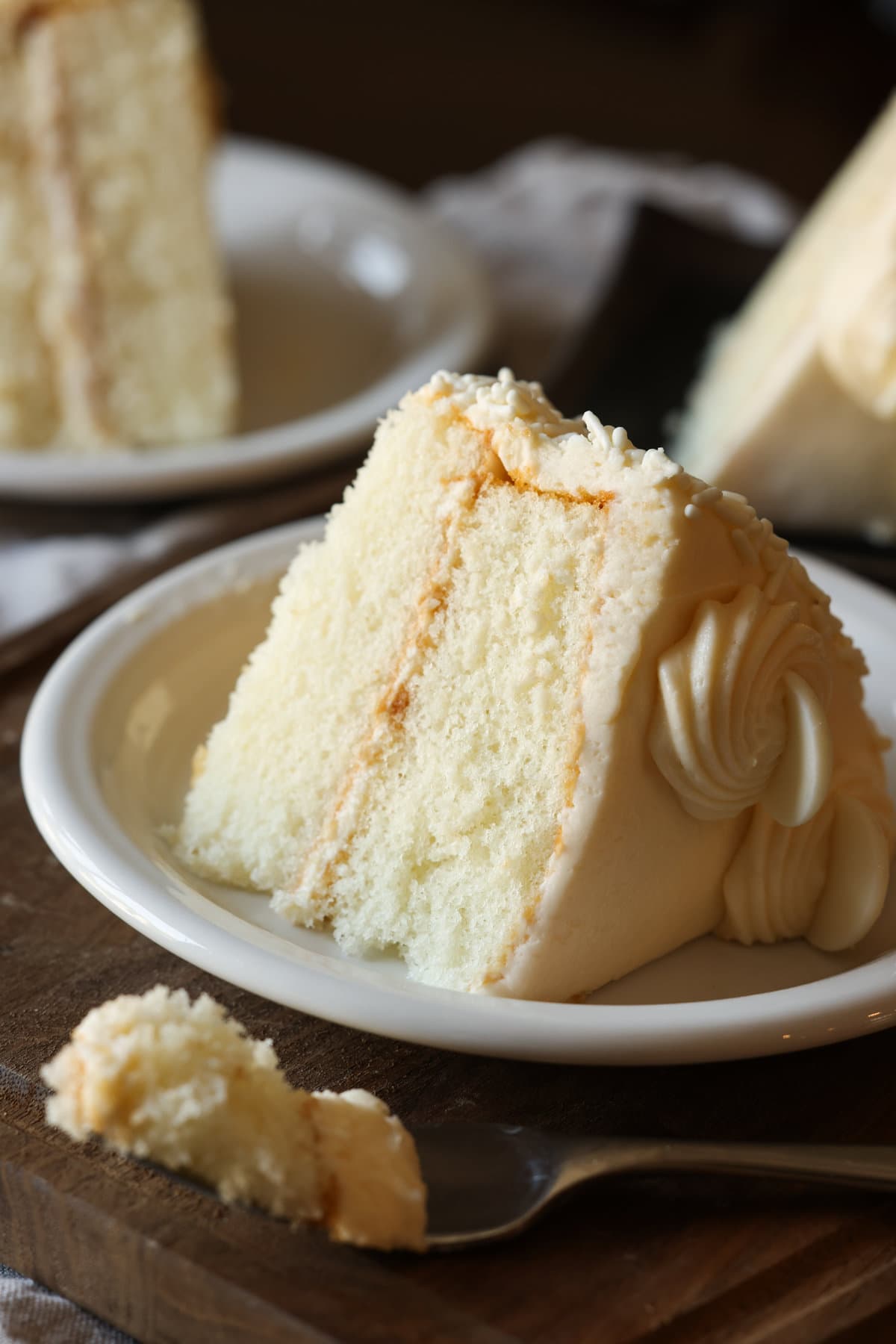 What Is Cake Flour?
Cake flour is a low-protein flour that's milled extra fine and contains about 5-8% protein. Meanwhile, all-purpose is slightly higher, at 10-12%. In baking, a higher protein content means more gluten development. Cake flour's lower protein content means less gluten, for a softer, moist crumb and fluffier texture. Here's a quick overview of the differences:
Cake Flour: Low-protein, which means less gluten formation. This makes it a better choice for cakes and cupcakes, for example (see below for easy recipe ideas).
All-Purpose Flour: All-purpose flour is medium-protein, with moderate gluten as a result. This makes it a real all-rounder, suitable for everything from chocolate chip cookies to pancakes.
Bread Flour: Bread flour has a high protein content, which leads to more gluten formation. This makes it ideal for bread recipes with a harder texture, like a homemade baguette. 
Cake Flour In Baking
You might be wondering, "What happens if I just use all-purpose instead of cake flour, and vice versa?" The good news is, for the most part, nothing terrible. Many people (myself included) occasionally use these flours interchangeably, without a cake turning into something from an episode of "Nailed It!" However, your baked goods won't turn out as soft and delicate.
Of course, there are some exceptions. Chocolate cake, for example, tends to turn out overly tender and flimsy when made with cake flour. This is because it already contains cocoa powder, another finely milled ingredient. Another one is carrot cake and other recipes that contain added fruit and/or vegetables, like zucchini bread. The additional moisture from these wet ingredients calls for harder flour. In these recipes, it's best to stick with all-purpose.
I typically use cake flour in recipes that call for a lighter crumb. This brings us to the even better news: all it takes is one ingredient to turn all-purpose into a cake flour substitute.
Let's Turn All-Purpose Flour Into Cake Flour!
If you've already started on a recipe for fluffy cupcakes, only to find that your bag of fine flour is empty, never fear. It's simple enough to make a quick, homemade substitute. To soften the proteins in all-purpose flour and make it more like cake flour, just add starch! In this case, cornstarch, to be exact. Here's what you'll need:
All-purpose flour
Cornstarch
Whisk or fine mesh sifter
Making a cake flour substitute is so easy. All you do is fill 1 cup with all-purpose flour, scoop out 2 tablespoons, and replace it with 2 tablespoons of cornstarch. Give it a whisk or sift it in a bowl, and there you have it. Your flour is ready to use in all of your lightest and chewiest desserts. Scroll to the recipe card below the post for more details.
Tips for Success
Before you file this handy homemade substitute under "must-have baking hacks", here are some final tips to keep in mind.
Measure the flour correctly. This is key! If you don't have a kitchen scale to weigh out your flour, I recommend using the spoon and sweep method. Spoon the flour from the bag into your 1-cup measure. Then, use the back of a knife to level it off. Whatever you do, please don't scoop the flour right from the bag. You'll wind up with way too much.
Make sure you're using cornstarch and not cornmeal. They are not the same thing!
Can I make cake flour without cornstarch? Yes, you can use equal parts arrowroot powder in place of cornstarch to make this homemade substitute. 
How to Store
It's important to store flour in a cool, dry place away from sunlight (like a pantry). If you live in a warmer climate, or if you're keeping flour for longer than one year, store it in the freezer! The flour will keep fresh in the freezer for up to 2 years.
12 Cake Flour Recipes
This substitute works like a charm! Put it to the test with these easy recipes for soft and moist cakes, cupcakes, and more.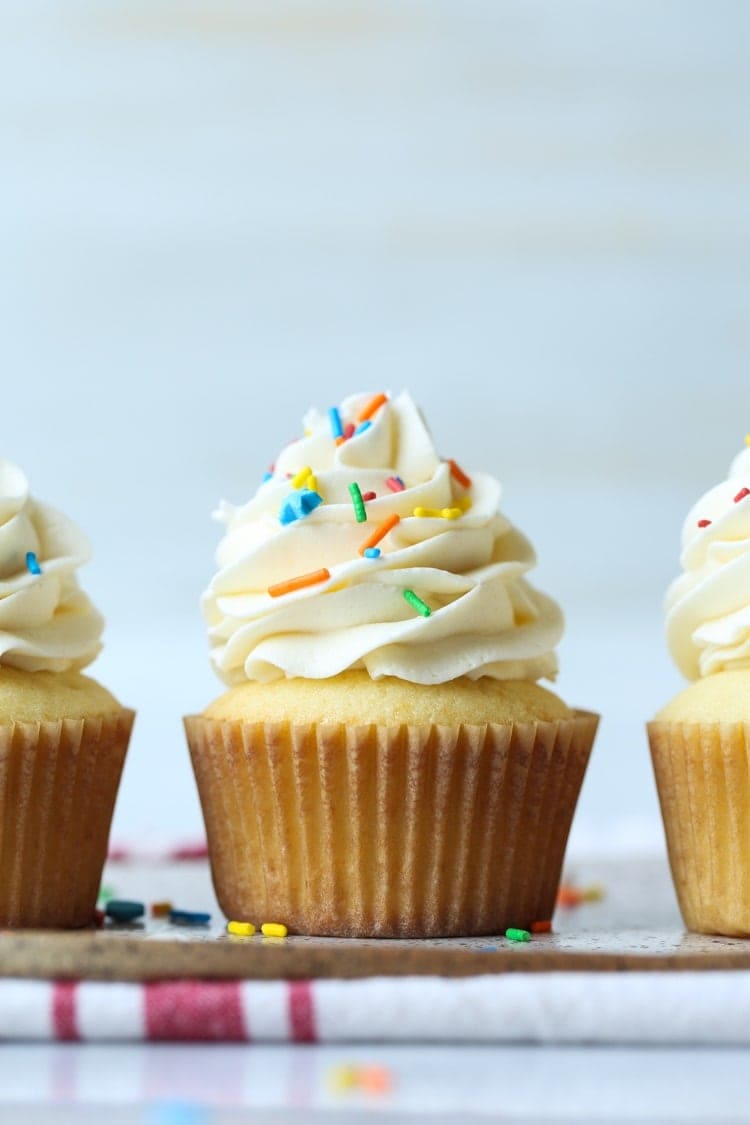 Vanilla Cupcakes
These vanilla cupcakes might just be the softest and most moist cupcakes ever! They're easy to make and perfect for birthdays. Top them with a swirl of your favorite frosting, and don't forget the sprinkles.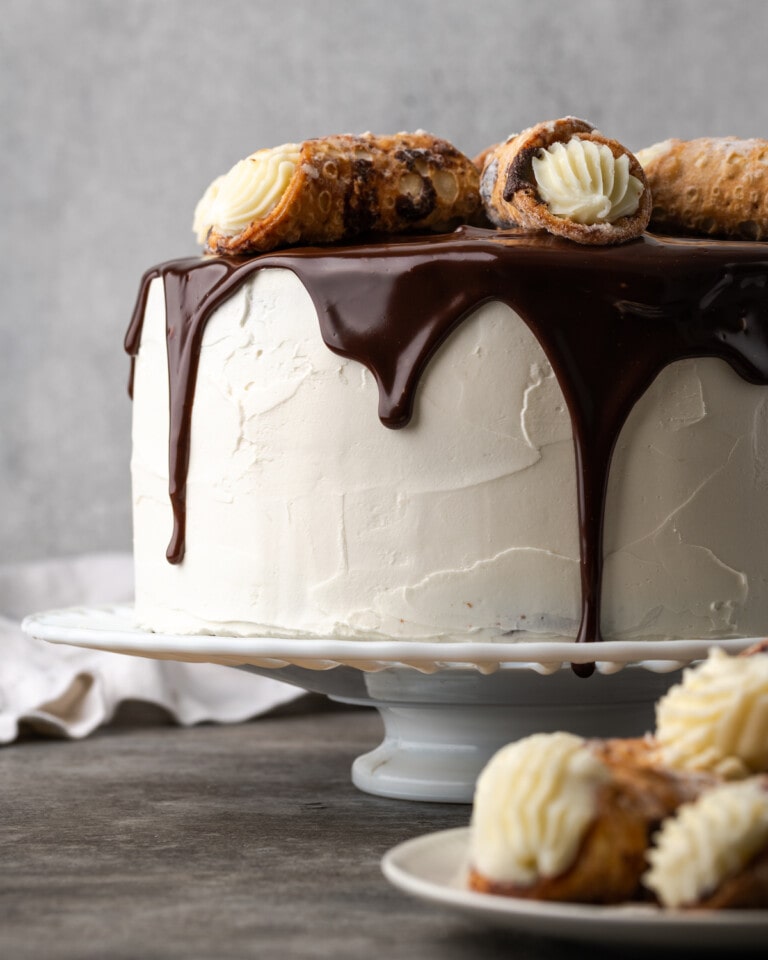 Cannoli Cake
Turn a classic bakery treat into a decadent layer cake with this easy cannoli cake recipe. It's made from rich vanilla cake layered creamy homemade mascarpone filling, loaded with mini chocolate chips.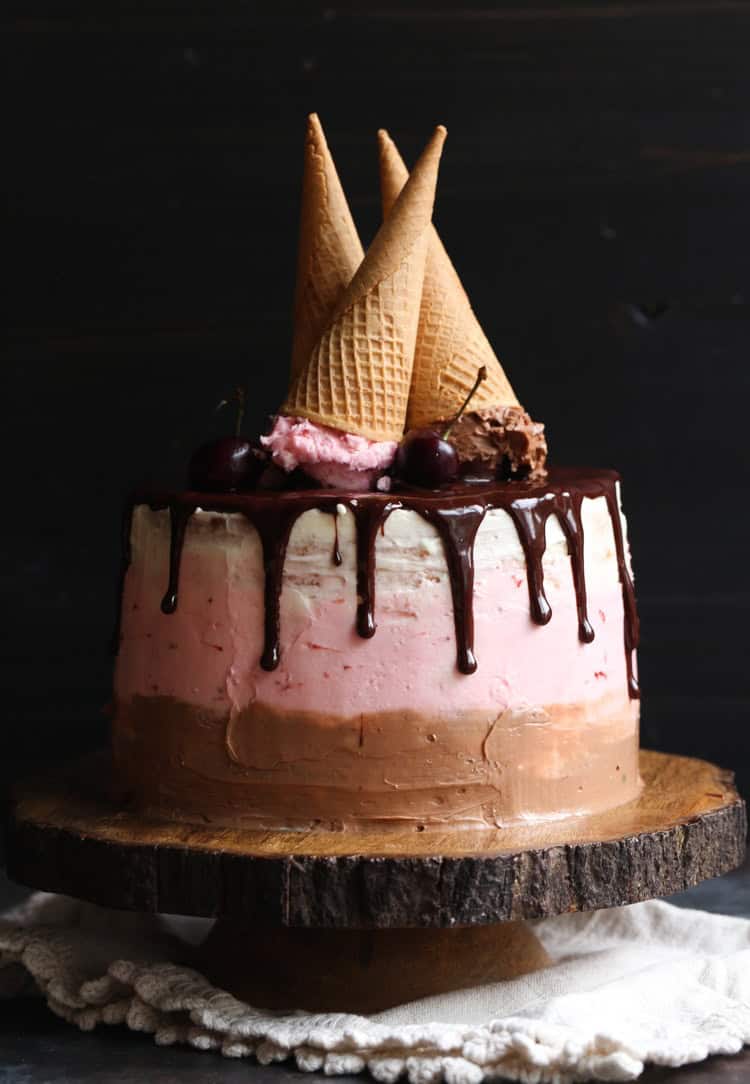 Neapolitan Cake
Three layers of vanilla, chocolate, and strawberry cake make up this show stopping Neapolitan cake inspired by the famous ice cream flavor.
It's smothered with creamy Swiss meringue buttercream in all three flavors, too!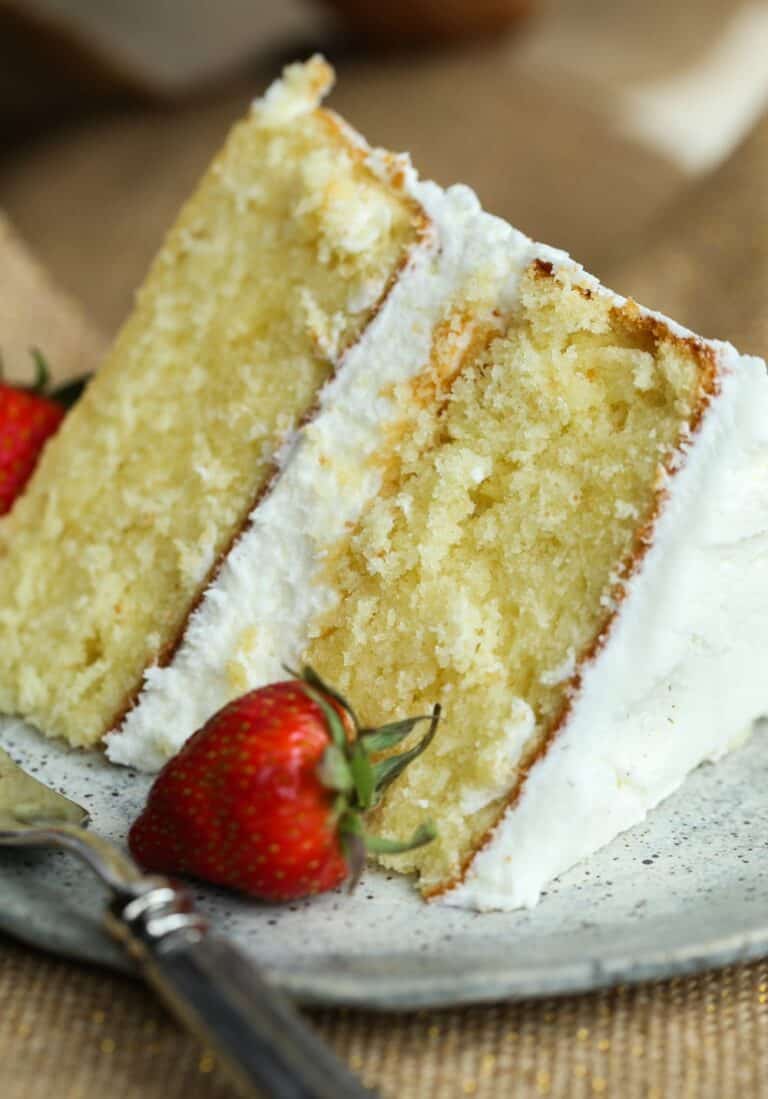 Perfect Vanilla Cake
If there's one steadfast cake recipe that you need in your life, it's this perfect vanilla cake. All you need is a few simple ingredients, and an easy trick or two to make it ultra buttery and soft!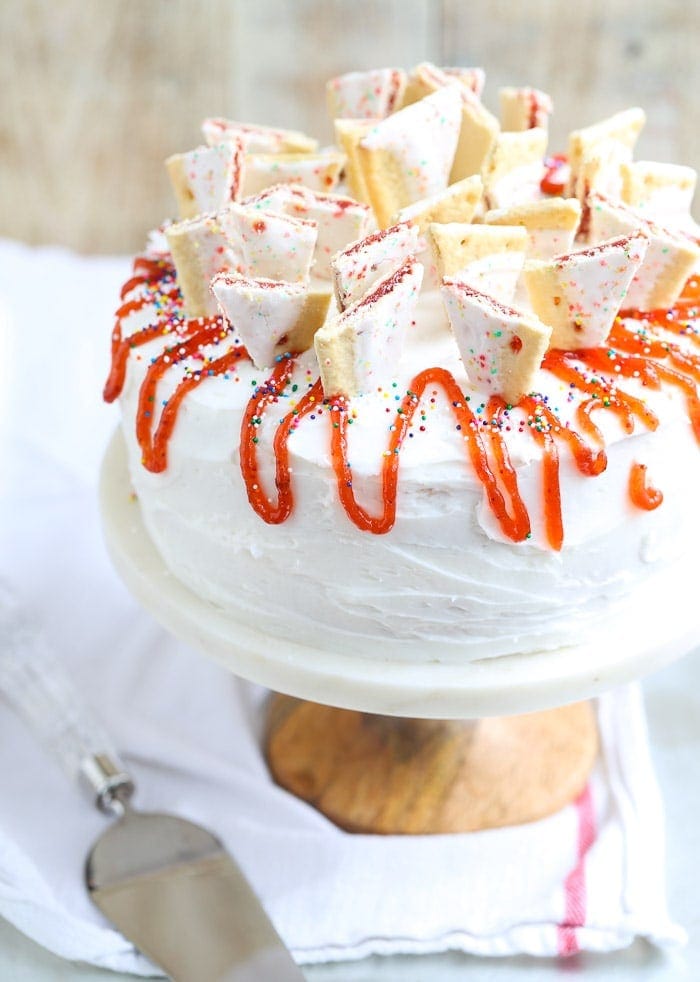 Strawberry Pop Tart Cake
Live out your wildest childhood dreams with this Strawberry Pop Tart layer cake! Tender vanilla cake layers are filled with strawberry jam, and then the whole thing is frosted with buttercream and topped with Pop Tarts.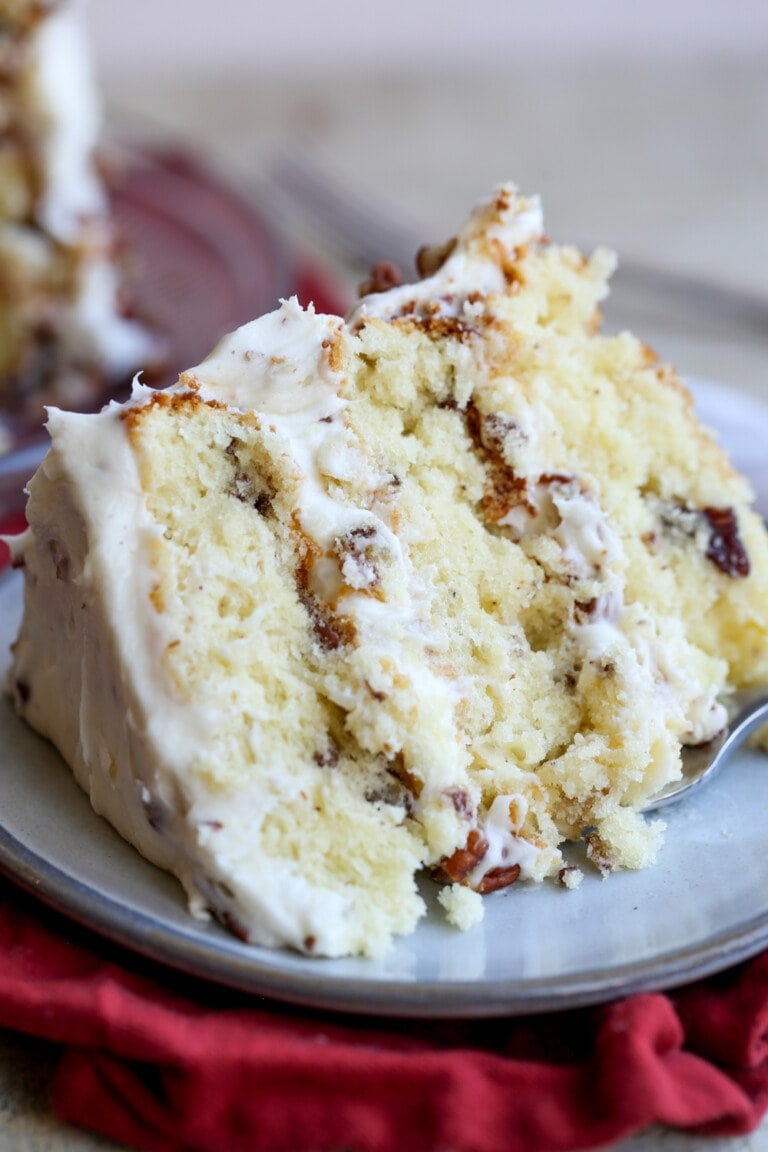 Italian Cream Cake
Moist and tender Italian cream cake is a classic recipe that's always a hit. There's something so luxurious about the rich layers of cake filled with cloud-like whipped cream cheese frosting. Throw in some crunchy pecans and coconut for an irresistible dessert fit for a special occasion!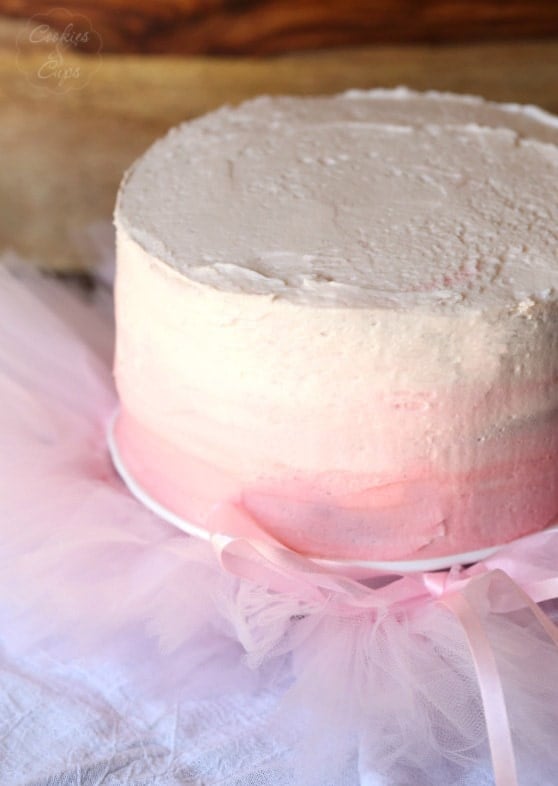 Pink Lemonade Chiffon Cake
If there's one thing that's as incredible as the cake itself, it's the delicious pink lemonade frosting on this chiffon cake! This easy cake makes a gorgeous dessert filled with the sweet, bright flavors of pink lemonade throughout.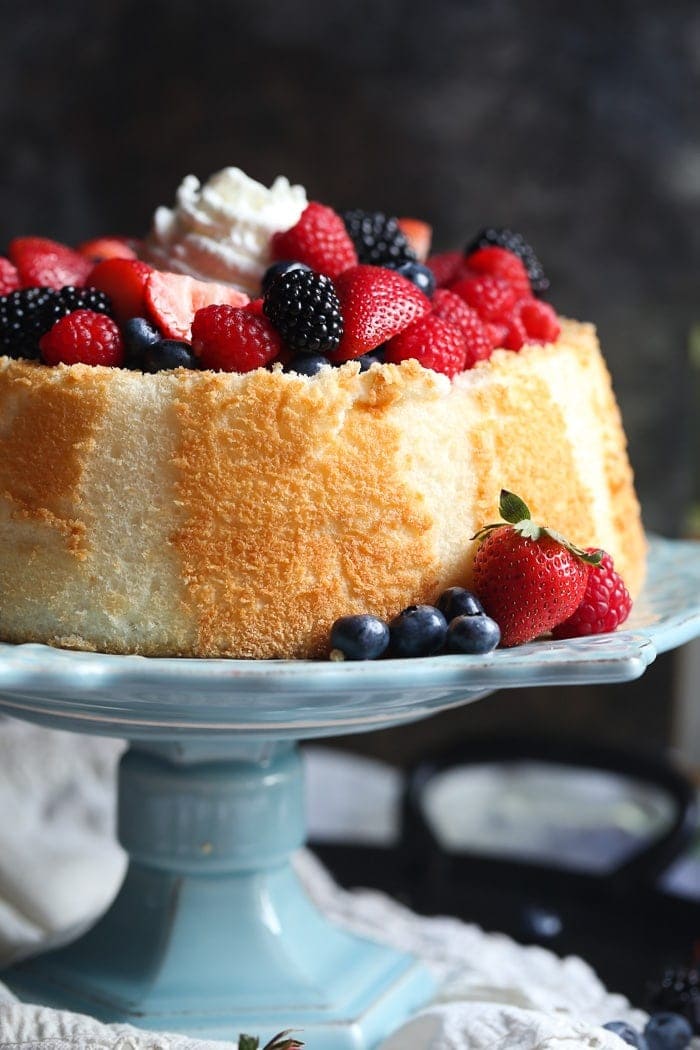 Angel Food Cake
Cake flour gives angel food cake the lightest, most heavenly crumb. I top this cake with wine-soaked berries for a grown-up twist. It's the ultimate cake to take to potlucks and cookouts, and it always disappears from the cake stand!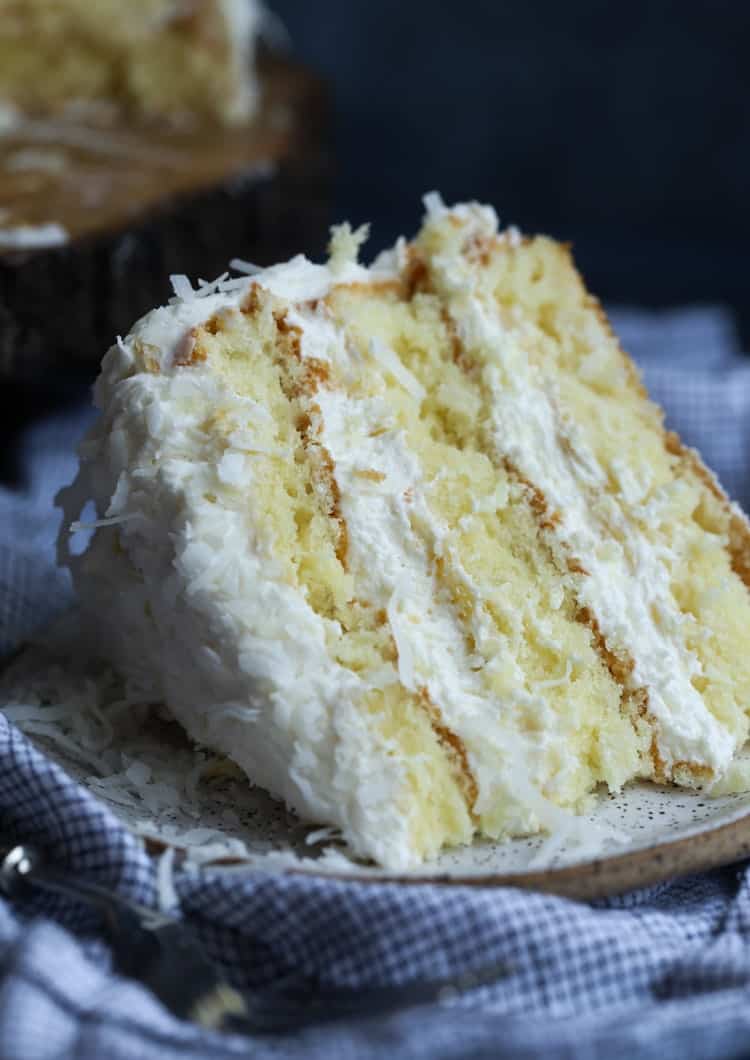 Coconut Cake
Coconut lovers, this one's for you. It's made with outrageously soft coconut cake layered with coconut buttercream frosting. Every inch of this fluffy cake is filled with sweet shredded coconut. So good!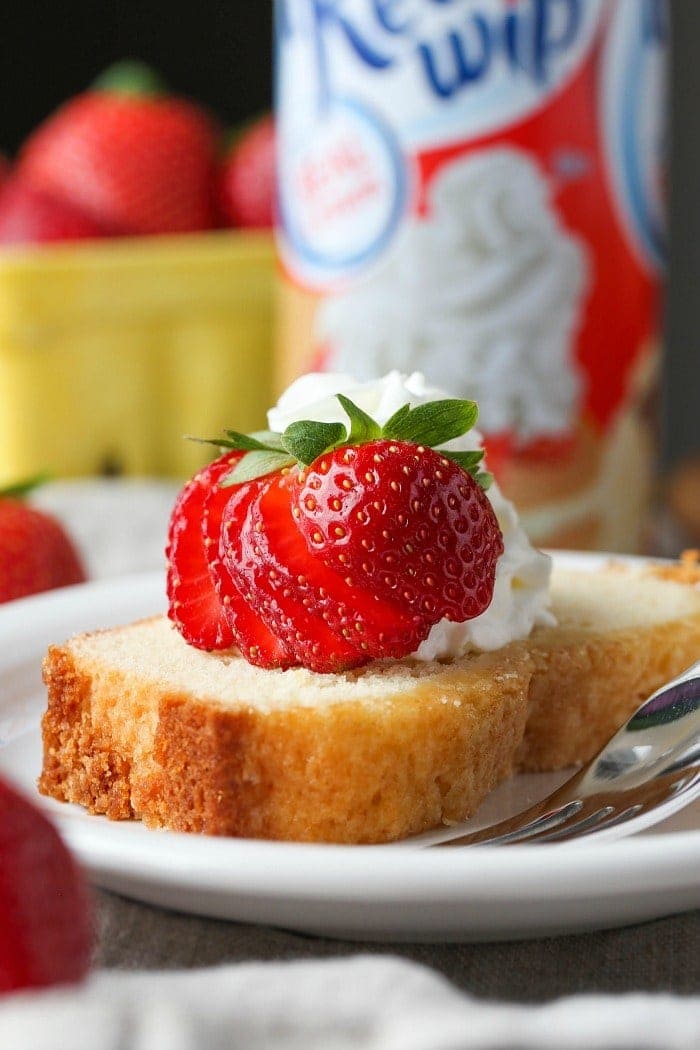 Whipped Cream Pound Cake
Make the fluffiest, airy pound cake with whipped cream, you'll never go back. This easy vanilla pound cake is perfect to serve by the slice topped with even more whipped cream and berries.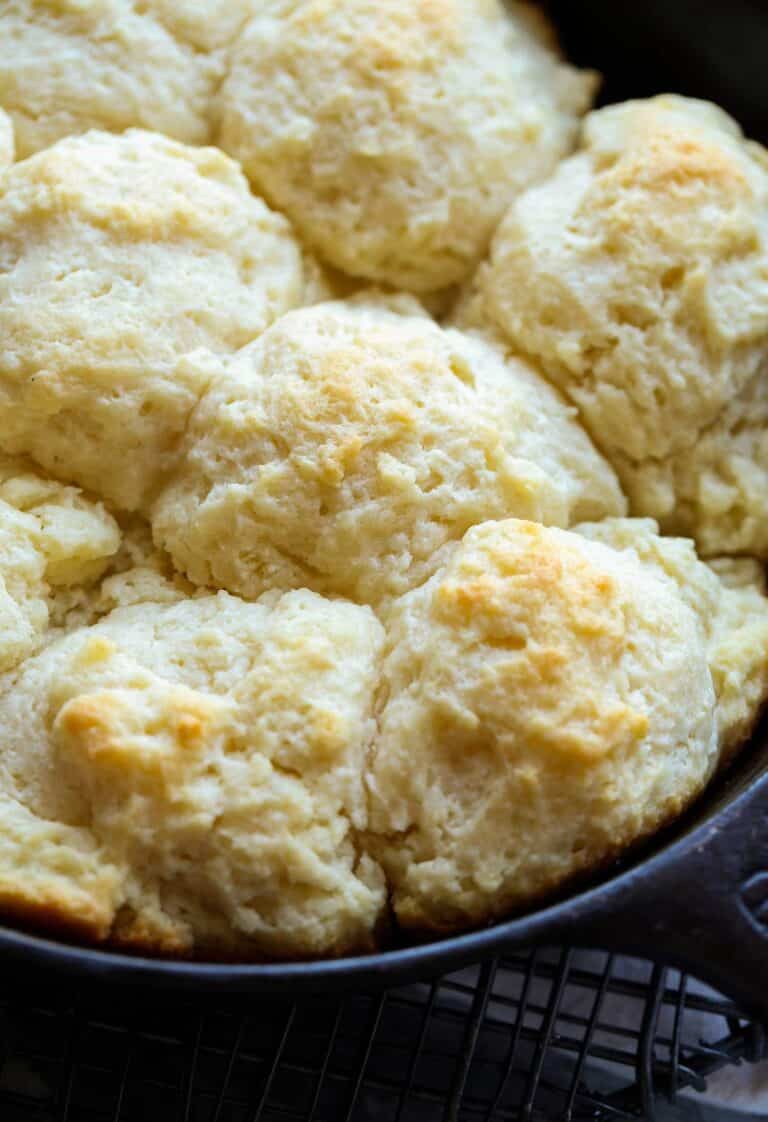 Skillet Biscuits
These tender buttermilk biscuits with crispy, buttery edges cook up soft and delicious in a cast iron skillet. Dig into them for breakfast topped with honey butter, you'll want to make this biscuit recipe on repeat!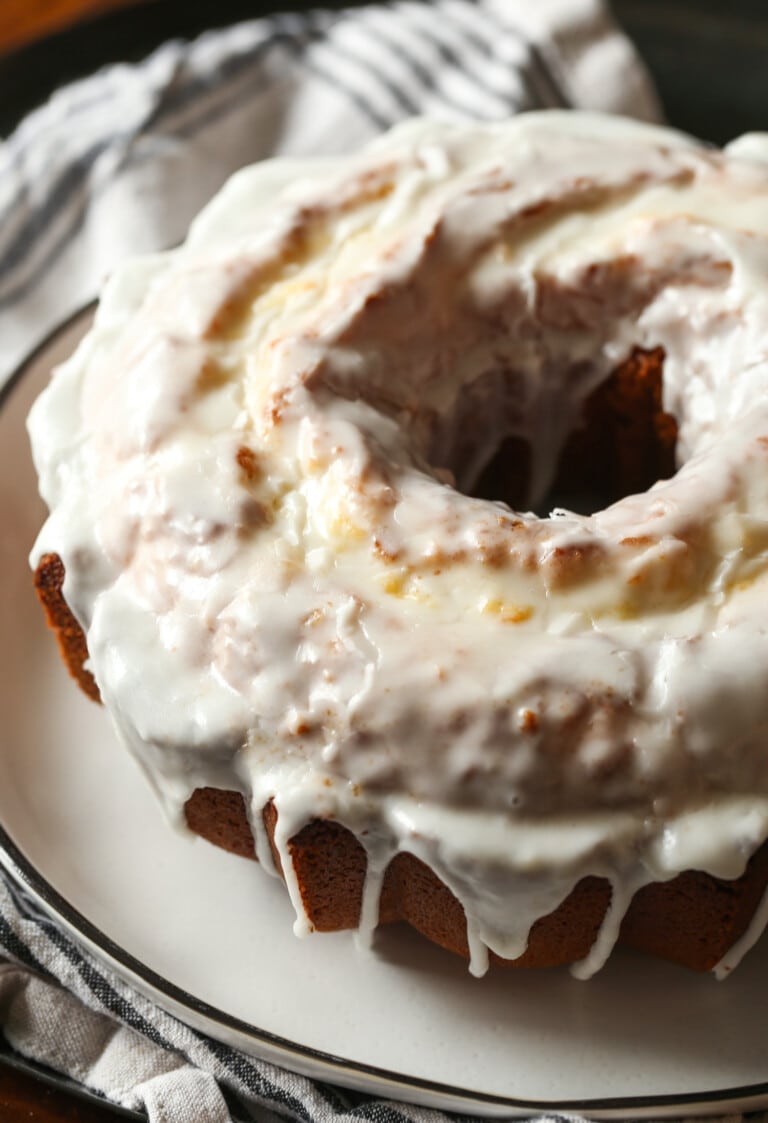 7UP Cake
This old-fashioned 7UP poundcake has all the flavors of a lemon pound cake, made with a lemon soda twist. Drizzled with a mouthwatering homemade citrus glaze, this bundt cake recipe is a keeper.
Print
---
Description
Learn how to make an easy cake flour substitute with just two ingredients! All you need is all-purpose flour and cornstarch, and you'll be back on track to baking the softest cakes and cupcakes.
---
14 tablespoons

all-purpose flour (

1 cup

minus

2 tablespoons

)

2 tablespoons

cornstarch
---
Add the flour and cornstarch into a large bowl. Whisk together to combine.
---
Notes
Instead of measuring 14 tablespoons of flour, you can simply measure one cup of flour and remove two tablespoons.
Keywords: how to make cake flour, cake flour substitute, cake flour recipes
Want To Save This Recipe?
Find more recipes like this:
PIN for later: