Cheeseburger dip is the best party dip! It tastes just like a melty cheeseburger with all the fixings and plenty of ooey-gooey cheese. This dip recipe is SO creamy and easy to make for Game Day and parties. 
If you love warm cheese dip recipes like my Crock Pot Nacho Dip and Hot Corn Dip, you're going to go crazy for this one!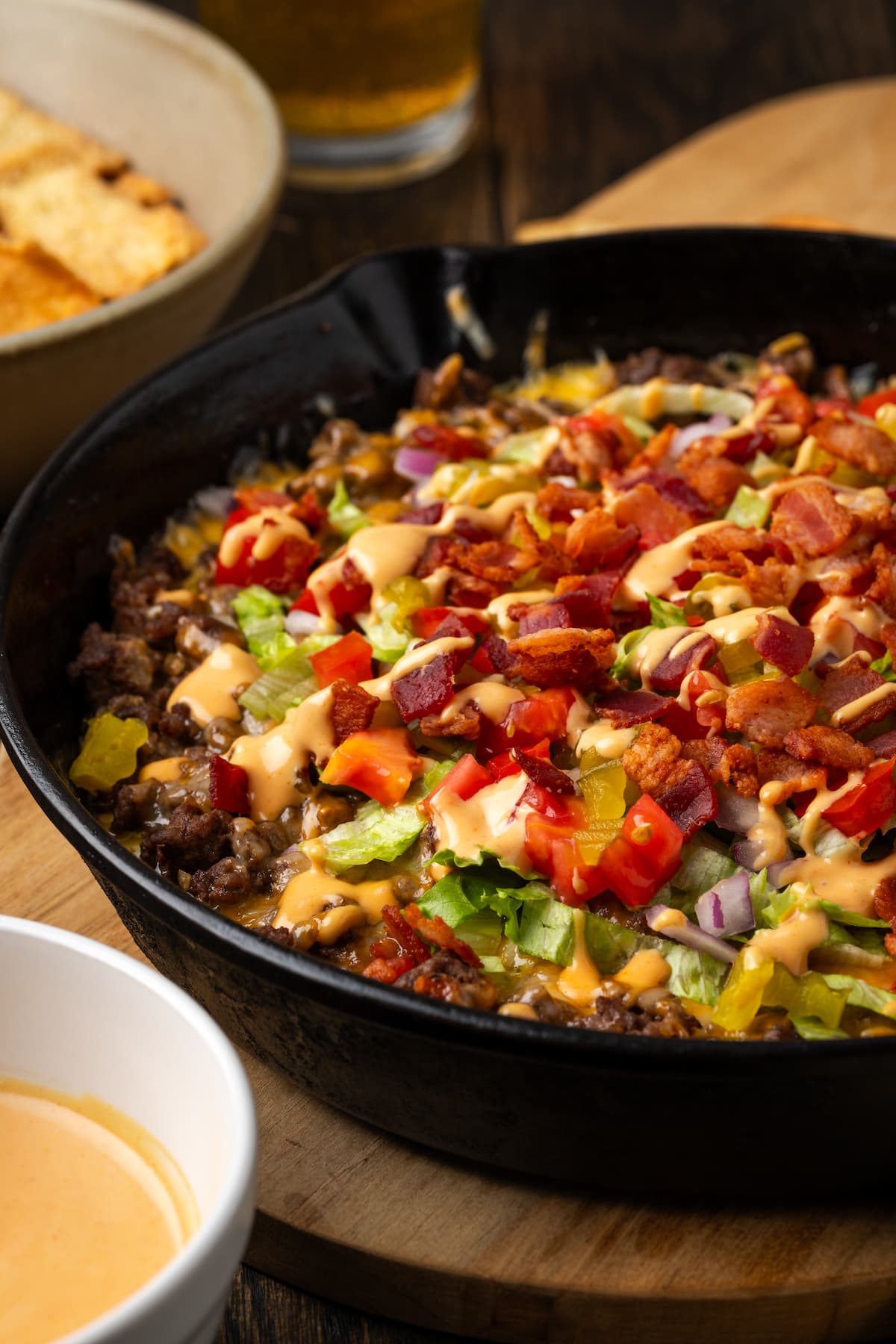 The Best Melty Cheeseburger Dip
Burger fanatics, or just general meat lovers, are you looking for the perfect party food or game day snack? You've found it. Cheeseburger dip is everything we love about a classic cheeseburger (or, say, cheeseburger sliders) wrapped up in a creamy, beefy, ooey-gooey party dip. It's quick to make and even quicker to devour with chips and dippables.
To take things over the top, I drizzle my cheeseburger dip with my very own (super easy) homemade burger sauce. But not before layering on all of our favorite cheeseburger toppings: lettuce, tomatoes, onions, and even dill pickles!
Why You'll Love This Cheeseburger Dip Recipe
Cheeseburger vibes. Lots of 'em! Seasoned ground beef, melty cheese, and all your favorite cheeseburger toppings come together in one easy dip recipe. I even included my quick recipe for the best burger sauce.
(Almost) one skillet. This cheeseburger dip is one of my favorite reasons to crack out my cast iron skillet. After browning the ground meat, everything comes together in one pan.
Melty, gooey cheese. It doesn't get much better. We're layering not one but THREE kinds of cheese in this recipe. This is the creamiest dip ever. Totally addictive.
Perfect for parties. Party guests go bananas for this cheeseburger dip. I've made it countless times for so many Football Sundays and game day potlucks and it's usually gone before they sing the national anthem.
Cheeseburger Dip Ingredients
Below is a quick overview of the ingredients you'll need to make this cheesy dip. Be sure to scroll to the recipe card for the full ingredient list, amounts, and recipe details.
Ground Beef: I like to make this recipe with lean ground beef so that the dip doesn't come out overly greasy (between the meat and all that cheese!). 
Dry Onion Soup Mix: It's so retro and I love it. Who else grew up in a household that found endless uses for dry onion soup mix? Because, same. Onion soup mix is a quick way to season the ground beef with rich, delicious flavor. If you don't have an onion soup mix handy, substitute onion powder or garlic powder instead.
Cream Cheese: This cheeseburger dip is pretty much a cream cheese dip dressed up like a juicy burger. So, you'll need regular cream cheese, softened to room temperature so that it's easy to spread.
More Cheese: Of course, we're adding American cheese slices to double down on that authentic cheeseburger flavor. Plus, a layer of grated Colby Jack cheese so the top gets nice and melted. Regular grated cheddar cheese also works as a substitute for both the American cheese and Colby Jack in this recipe.
Toppings: What's a cheeseburger without all the classic toppings? After baking, I garnish my dip with shredded lettuce, diced tomatoes, red onion, and diced dill pickles. If you'd like to make this a bacon cheeseburger dip, go ahead and sprinkle on cooked smoky bacon.
Dippers: This is a thick, hearty cheese dip, so you'll want to serve it with sturdy chips, such as kettle chips, tortilla chips, or pita chips. Thick crusty bread slices work, too.
For the Sauce
Mayonnaise, Mustard, and Ketchup: Whether you call it burger sauce, special sauce, or otherwise, the foundation of this classic sauce is basically all of your burger condiments, mixed together.
Garlic Powder and Onion Powder: Make sure that you're using dried powdered onions and garlic, and not onion salt and garlic salt.
Pickle Juice: My secret weapon for the BEST burger sauce is a splash of pickle juice straight from the jar. It adds all the right notes: brininess, tanginess, acidity. So good! If you dislike pickles (why?!), I suppose you can skip it.
How to Make Cheeseburger Dip
Who's ready to get down and dipping? This cheeseburger dip takes a bit of prep on the stove, and then all it takes is a quick bake to get it nice and melted. Let's go: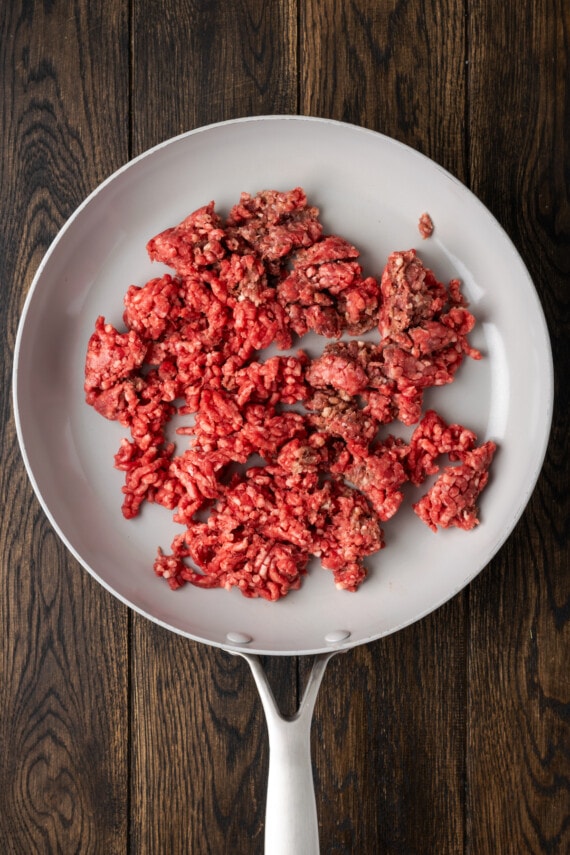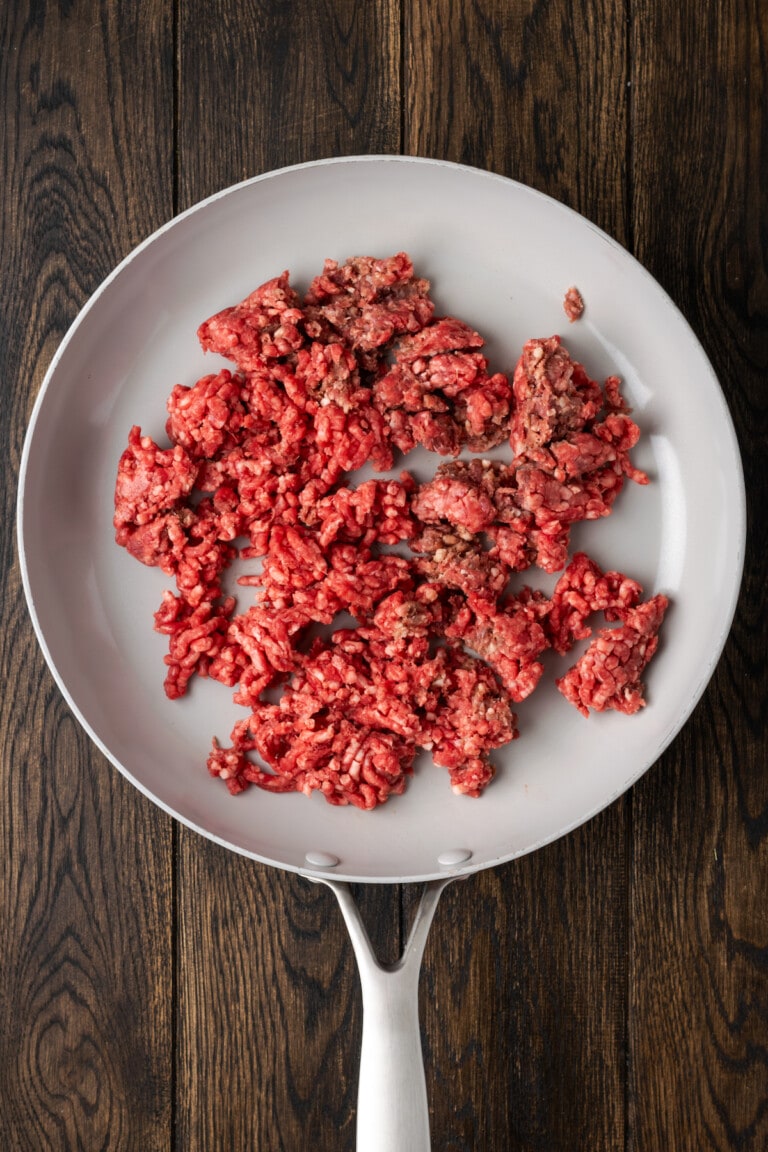 Cook the beef. Get your skillet warmed up on the stovetop and saute the ground beef, breaking it up as you go. Don't forget to drain any excess fat from the pan – you don't want the extra grease ending up in the dip. 
Season with onion soup mix. Next, stir in the dry onion soup mix along with a couple of tablespoons of water. Let that cook off for a minute or two, then set the beef aside for now.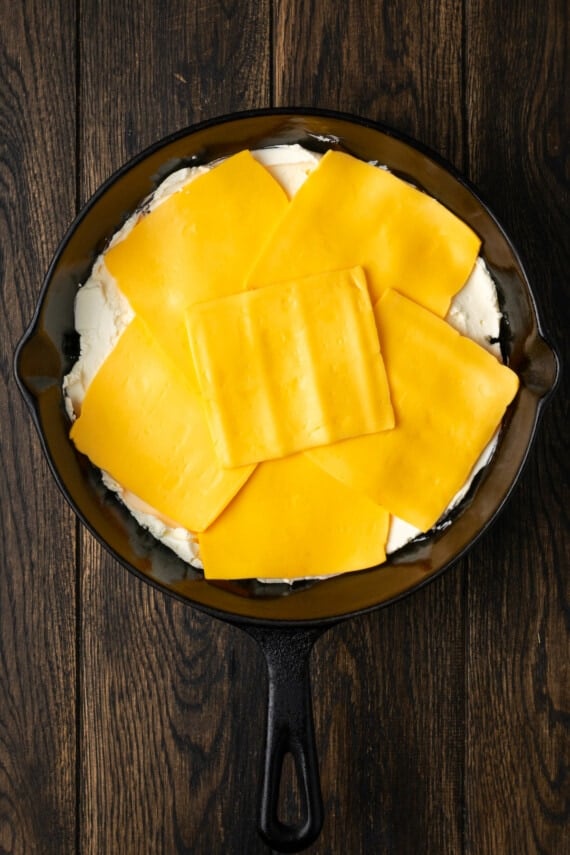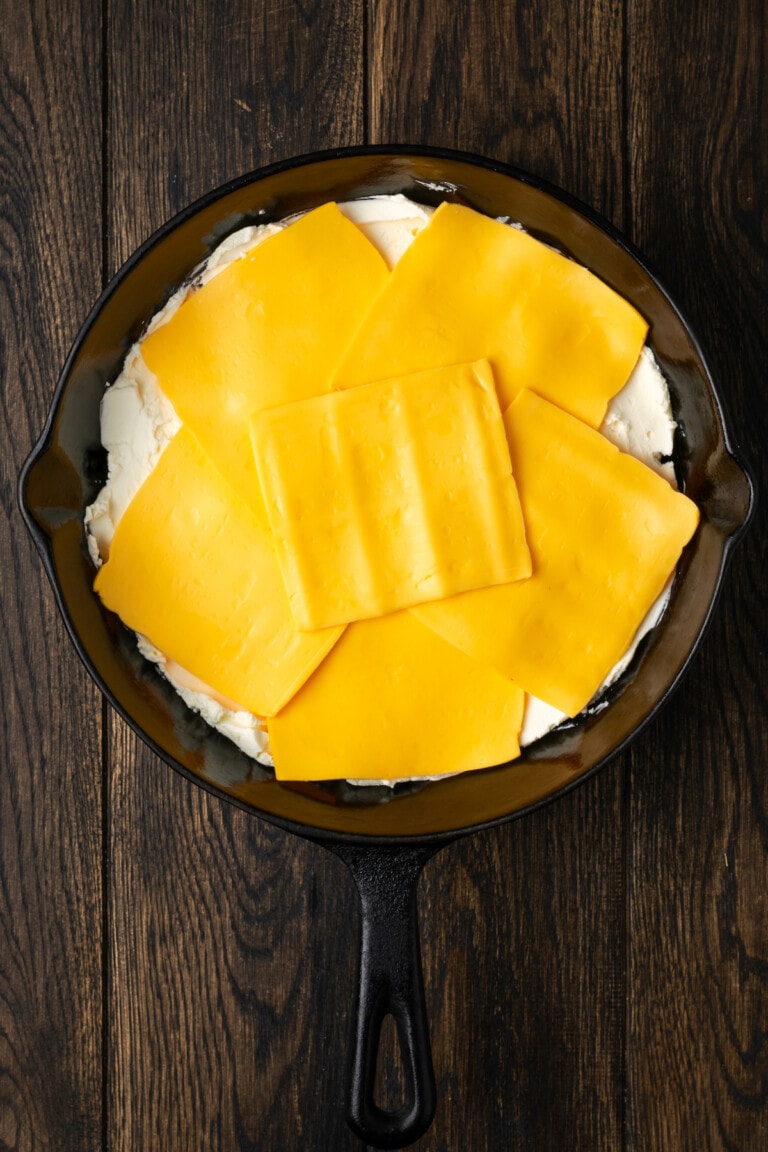 Assemble the dip. In a 10-inch cast iron skillet, spread a generous layer of cream cheese, then top this with slices of American cheese. Top this cheese layer with ground beef, and, lastly, sprinkle on your grated Colby Jack.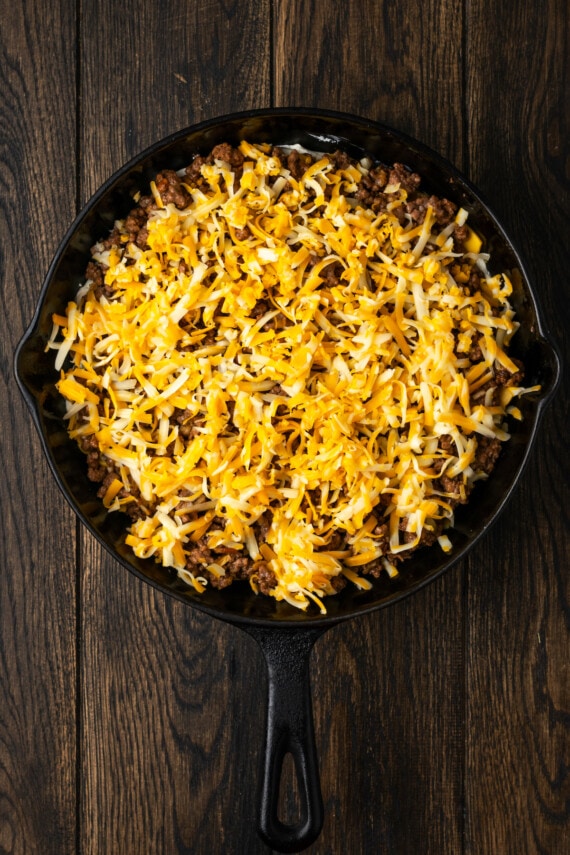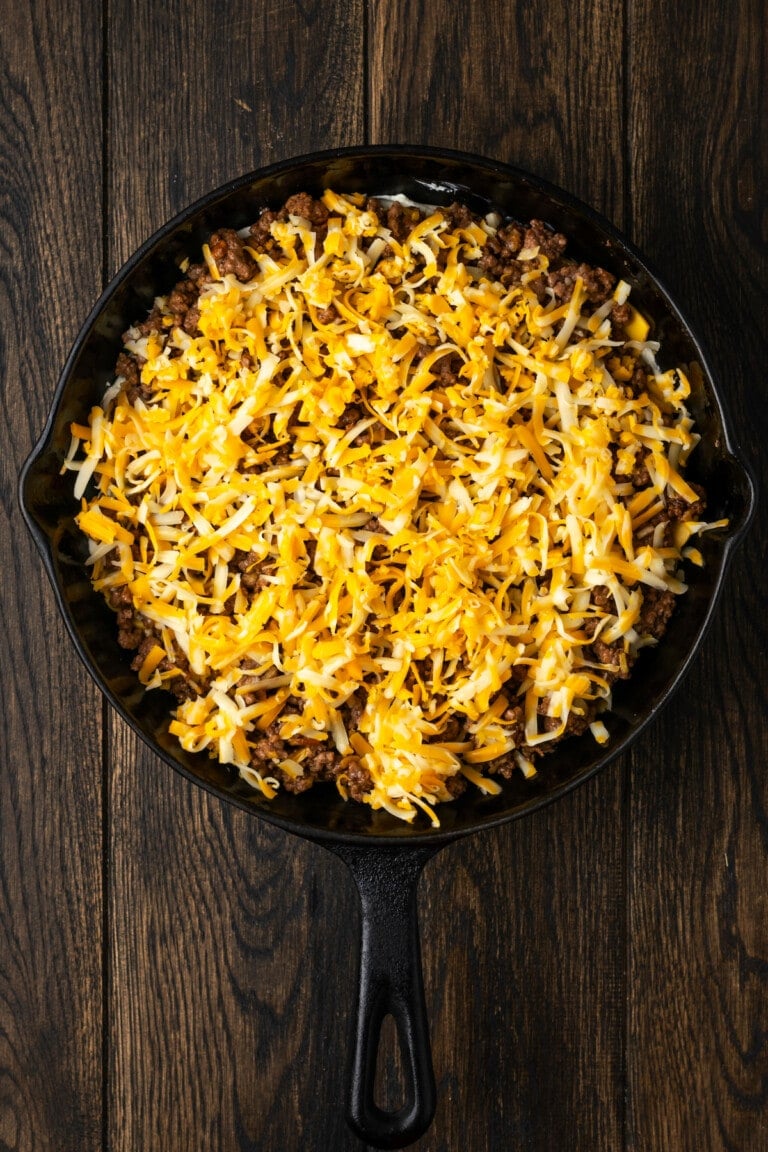 Bake. Pop the dip into a preheated oven at 375ºF for 15-20 minutes, until the cheese is bubbly and fully melted. While the dip is baking away, whisk together the burger sauce ingredients.
Garnish and serve. Finally, take your dip out of the oven and layer on your lettuce, tomatoes, onions, pickles, and bacon (if using). Have your chips on standby while you give the whole thing a drizzle of burger sauce, and then dig in!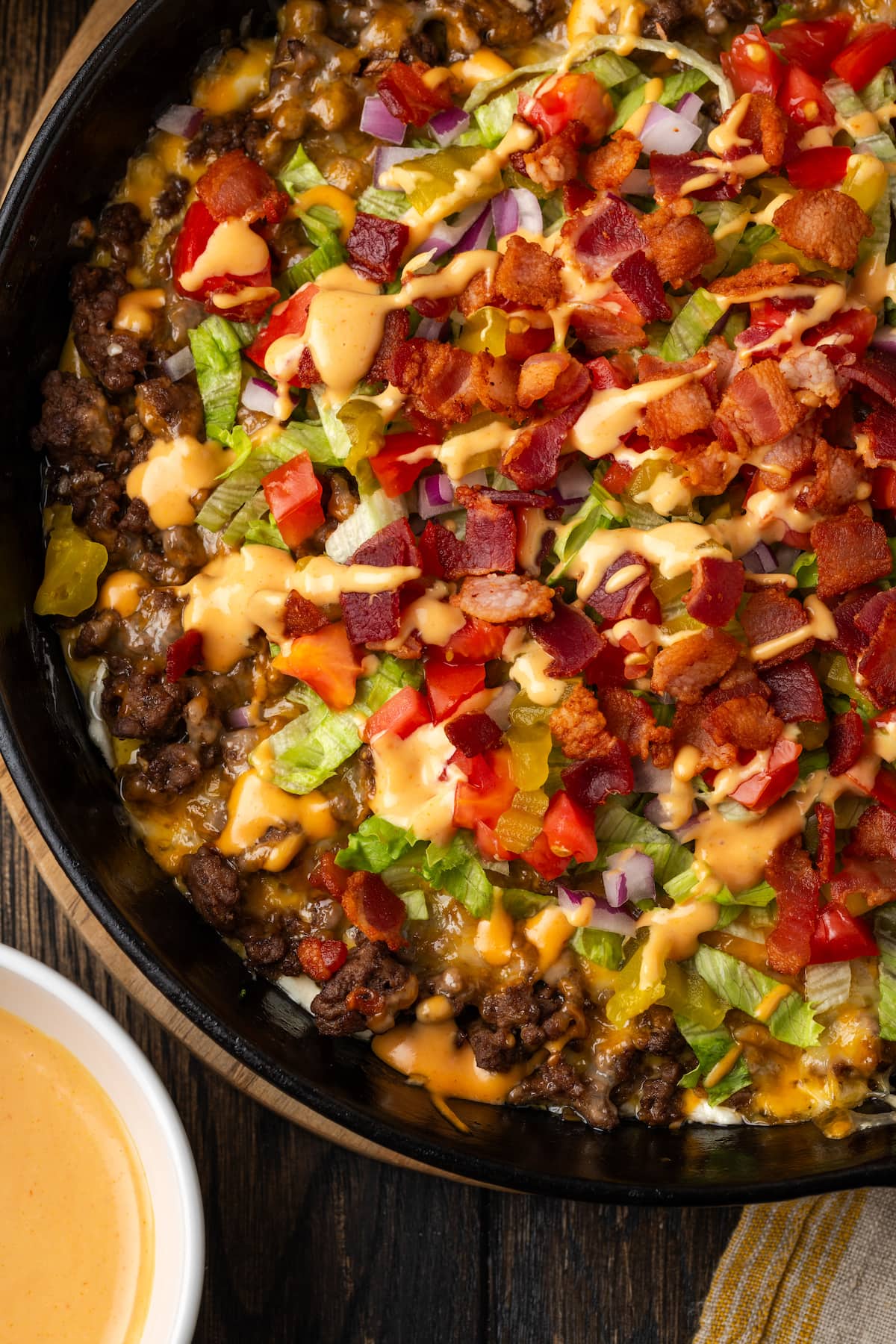 Tips for Success
Here are my final tips for the best skillet cheeseburger dip:
Use freshly grated Colby Jack or cheddar. Pre-shredded cheeses (like the kind that comes in bags) are treated with anticaking agents that give them a waxy coating, and they won't melt as smoothly.
Dice the tomatoes and toppings up finely. This way they'll be easier to scoop up with the dip.
Make a big batch. Speaking from experience, this dip flies from the skillet the second it hits the table. If you're planning for a larger gathering, I highly recommend doubling or tripling the recipe. Use the 2X and 3X scaling options available in the recipe card to update the ingredient amounts for a larger batch.
If you don't have an oven-safe skillet, layer your dip in a glass or ceramic baking dish. Even a metal pan will work in a pinch.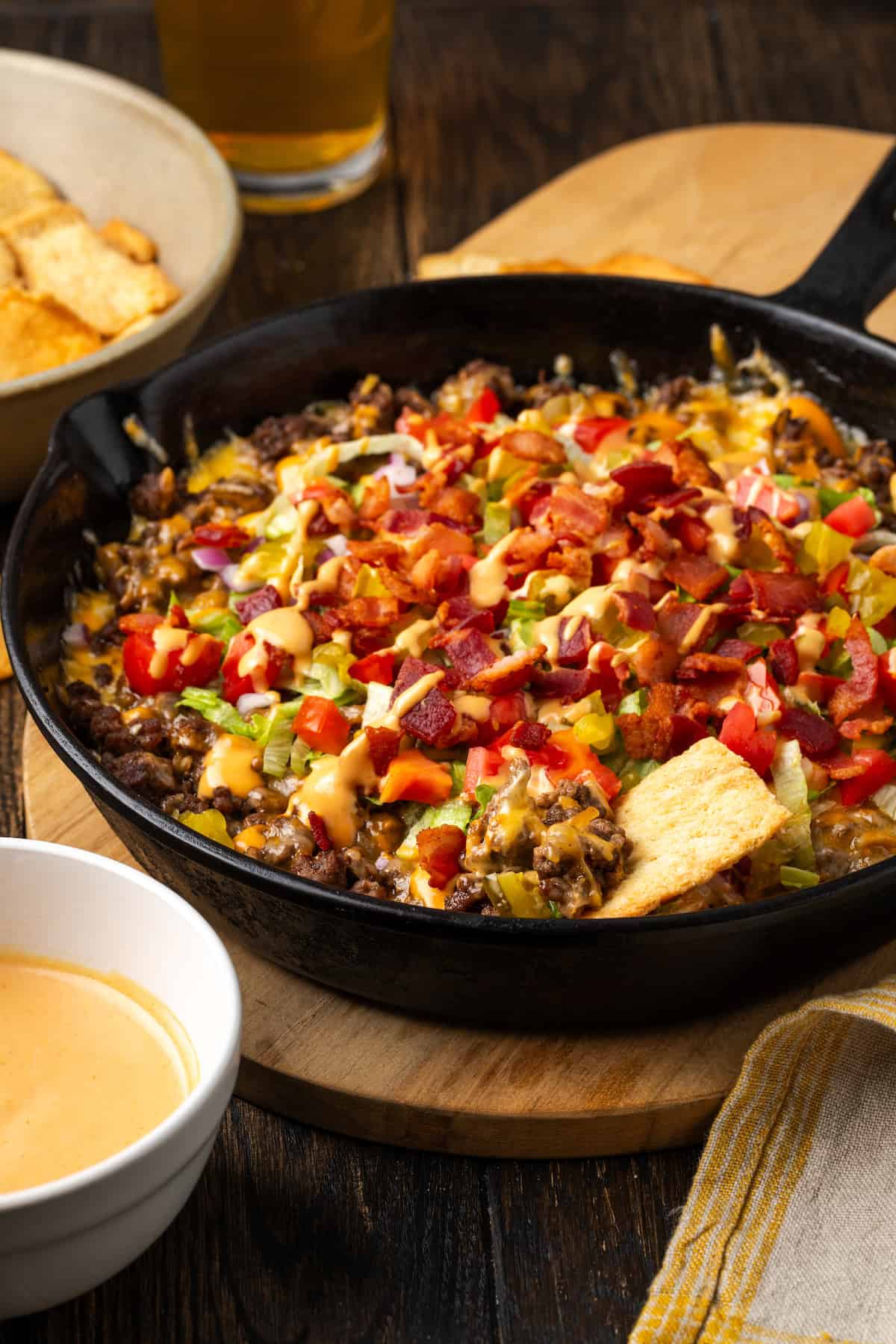 Can I Make Cheeseburger Dip in the Slow Cooker?
Yes! You can easily adapt this cheeseburger dip recipe for the slow cooker or crock pot. This is especially handy if you're making a big batch for a lot of people. Here's how to do it: 
Brown the beef and season it with onion soup mix as directed. Afterward, transfer the beef to the bowl of your slow cooker and add the cheese. Cover and cook on high for 1½-2 hours or on low for 3-4 hours. When the cheese is melted and bubbly, add your toppings, drizzle with burger sauce, and dig in. You can serve the dip straight from the slow cooker on the "keep warm" setting.
Can I Make This Recipe Ahead? 
Yes, you can make this dip a few hours in advance, cover it, and refrigerate it. Simply remove the cover and warm it up in the oven again when company arrives. Leave off the toppings like lettuce and tomatoes, etc. until you're ready to serve.
If you'd like to prepare and freeze this dip in advance, I recommend assembling it in an oven- and freezer-safe dish rather than a cast iron skillet. Bake as directed and allow the dip to cool completely (leave off the toppings), wrap it well, and keep it frozen for up to 1 month. Defrost the dip in the fridge and then reheat it in the oven at 350ºF until hot throughout before adding the toppings.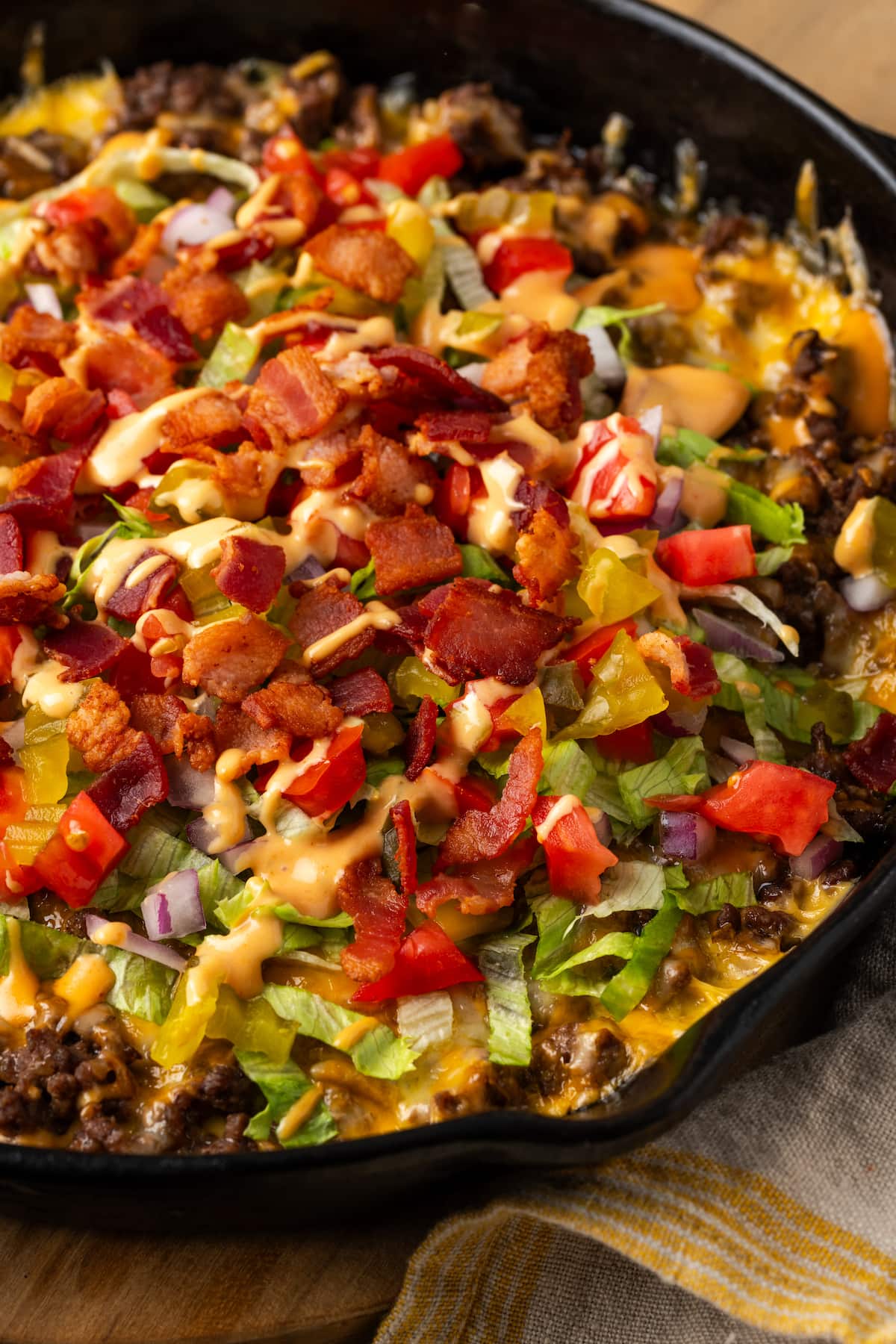 Variation Ideas
There are plenty of ways to adapt this dip recipe while keeping the flavors true to their cheeseburger roots. Try these ideas:
Bacon Cheeseburger Dip: As mentioned, you can turn this into a bacon cheeseburger dip by sprinkling over cooked, diced bacon. Or, cook the diced bacon in the skillet at the same time as the ground beef for even more flavor.
Lean Meat: For a slightly leaner and healthier alternative to ground beef, swap it for ground turkey or ground chicken instead.
More Toppings: You can garnish this dip however you'd garnish your cheeseburger. Try more add-ons like crispy fried onions, diced green chilies, sour cream, or even a drizzle of BBQ sauce or hot sauce.
Different Cheese: Spice things up with grated Pepper Jack cheese, or swap out American cheese for another melty variety, like Velveeta or provolone.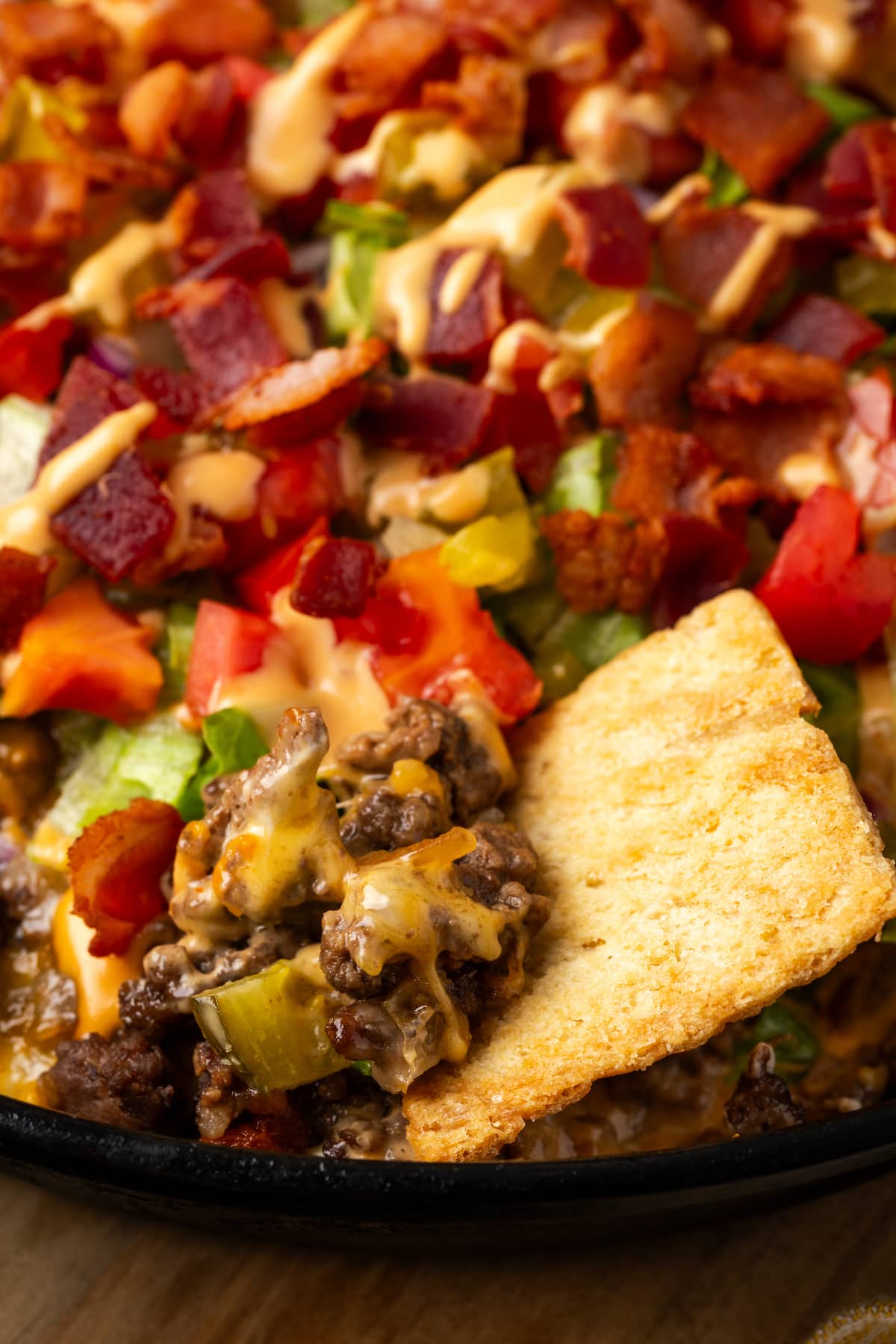 Ways to Serve Cheeseburger Dip
As far as what you'll dip in your cheeseburger dip, that's totally up to you! I recommend serving this dip warm with sturdy dippers like tortilla chips or pita chips. Other good options are kettle chips (they're a little sturdier than regular potato chips), seasoned crackers, or veggies and crudités for a lighter option. Here are more serving suggestions: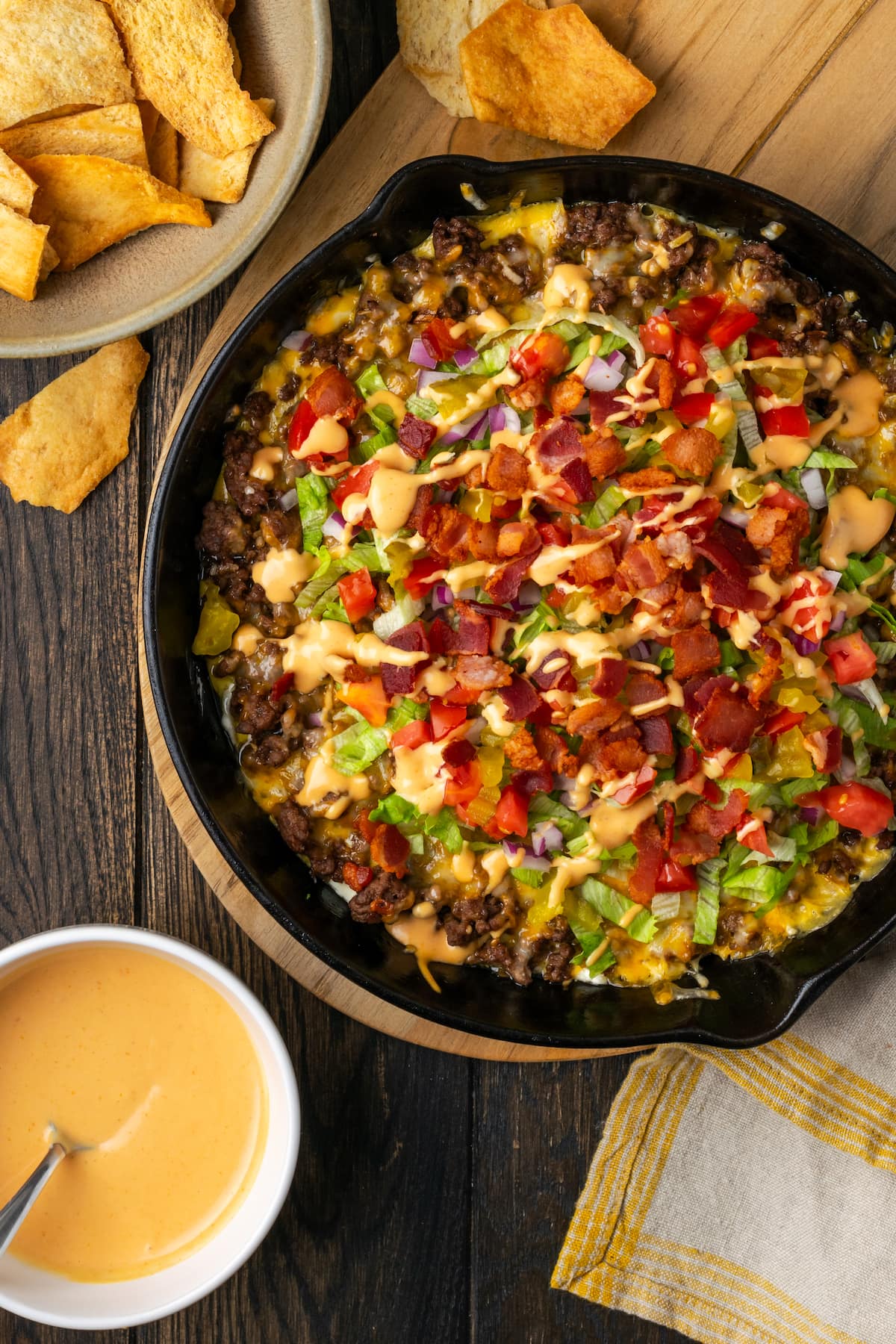 Storing and Reheating Leftovers
Fridge: We never have leftovers of this cheeseburger dip, it's that delicious! If you do happen to have dip left over, make sure to store it in an airtight container and keep it refrigerated. Do your best to store the dip without the toppings. It's good for up to 4-5 days in the fridge. 
Reheat: When reheating, transfer the dip to a skillet on the stovetop or reheat it in an oven-safe dish. Everything will mix together, but that's OK. Alternatively, zap the dip in the microwave for a minute or two until it's warmed through.
Freeze: Leftover cheeseburger dip isn't the best for freezing once the toppings are added. If you'd like to prepare and freeze the dip ahead of time, see the section above for details.
More Easy Party Dip Recipes
Print
---
Description
This skillet cheeseburger dip recipe is the best party dip! It tastes just like a melty cheeseburger loaded with all the fixings, topped with homemade burger sauce.
---
1

pound lean ground beef

1

(1-ounce) package of dry onion soup mix

12 ounces

cream cheese, room temperature

4 ounces

sliced American cheese

1 cup

grated colby jack cheese

1 cup

shredded lettuce

1/2 cup

diced tomatoes

1/4 cup

diced red onion

1/4 cup

diced dill pickles
Optional – 1/2 cup diced cooked bacon
Sauce:
1/3 cup

mayonnaise

1 tablespoon

yellow mustard

2 tablespoons

ketchup

1/4 teaspoon

garlic powder

1/4 teaspoon

onion powder

1 tablespoon

pickle juice (from the jar)
Serving:
Kettle chips, tortilla chips, or pita chips to serve. Sturdy chips work best.
---
Preheat oven to 375°F
In a medium skillet on medium-high heat, cook the ground beef until no longer pink, breaking the beef into small crumbles. Drain excess fat from the pan.
Add in the dry onion soup mix and 3 tablespoons of water. Stir to combine and cook until no more liquid remains. Remove the pan from the heat and set aside.
Spread the cream cheese evenly into the bottom of a 10-inch cast iron, or oven-safe skillet.
Top the cream cheese evenly with the American cheese slices and then spread the meat on top of the American cheese. Sprinkle the grated Colby Jack cheese on top of the meat.
Bake for 15 – 20 minutes, or until bubbly and the cheese is melted.
Make the sauce: While the dip is cooking, make the sauce by mixing together the mayonnaise, mustard, ketchup, garlic powder, onion powder, and pickle juice until smooth.
When the dip is done, remove the skillet from the oven and garnish with lettuce, tomatoes, red onion, pickles, and bacon.
Drizzle with the prepared sauce and serve immediately.
---
Notes
Best served warm with sturdy chips.
Keywords: cheeseburger dip, cheese dip recipes, hamburger cheese dip, party dip recipes
Want To Save This Recipe?
Find more recipes like this:
PIN for later: